Wedding FAQ and Information
Frequently Asked Questions
Toronto wedding photographer on Instagram Storey Wilkins answers couple's frequently asked questions about her wedding day photography.

What is your approach to photographing a wedding?
We believe a wedding represents day ONE of a new family. It's a great honour for us, and a cherished responsibility. Our approach to your wedding is to make an equal amount of story-telling images, lovely family and bridal images, and to document your guests having fun and interacting. All through this we artistically record the details of all the specific choices you have made on dress, decor, environment and decoration.
It's very much your day and the story of your day. We work closely with you and your planner to make sure that we can achieve the high standard of professional photography we are known for in as relaxed an atmosphere as possible.
Our strong reputation in the industry is based not only on our quality photography but our ability to make each of our clients feel completely comfortable in front of the camera. The best way we could put it to you is that we 'fit in like friends who have come to do the photography'.
The joyous moments, the relationships with family and friends, the energy and the atmosphere are all important to capture in a unique and real way. As well as recording those priceless candid moments, we totally love making a variety of elegantly arranged, relaxed group photographs of you and your families.
What are your wedding photography fees?
If having a beautiful set of natural, thoughtful and emotional wedding day photographs is a top priority for you, then we may be a great fit for each other.
2020 fees typically start at $3,200 for 4 hours, $6,450 for 8 hours and $7,450 for 12 hours (plus HST). Add $400 per hour for additional coverage. This includes the photography on the wedding day, a beautiful custom designed 'artist's choice' album, an on-line password-protected gallery for viewing and ordering of images, the full resolution non-watermarked digital image files, a bound proof book, and a slideshow set to music of the top 200 images.
Please call us at 416-483-4122 to arrange a consultation for a customized quote.
We welcome "short & sweet" weddings too (from 1-4 hours) and can prepare a custom quote for you as requested.
Should we do an engagement session?
We highly recommend a pre-wedding shoot (engagement session) centered on making some lovely natural images of the two of you. We find this process essential for getting to know you better and understanding how you move together. The digital files from this session are included, as is the slideshow we make for you to share with family and friends. This typically takes up to 2 hours.
Where can I take wedding pictures in Toronto?
There are many great wedding and engagement photography locations in Toronto. Many require permits to book a time slot when you can arrive with your bridal party. Please email me for my list of top locations in the city.
What happens when the wedding photography agreement is signed?
After you have signed our "initial wedding agreement" and the deposit has been paid, the day is officially held. The final balance is to be paid no later than two weeks before the wedding. The payment options include cheque or credit card (Visa or Mastercard). As we have held that date exclusively for you deposits cannot be refunded for postponements or cancellations.
The final payment is due two weeks before the wedding. We'll send you a reminder email as you'll have a lot to think of then. Any additional services like extra time or album upgrades can be dealt with after the wedding.
Who owns the copyright of the photographs taken at my wedding?
Ownership of the original photographs (copyright) belongs to Storey Wilkins of Storey Wilkins Photography. Unless you specify otherwise, Storey will have the option to use the images for advertising, web site display, teaching and print competition, exhibitions, editorials, digital and print marketing, publications, educational and website purposes.
You listed two photographers. What does each one do?
Storey is the principal photographer and specializes in moments, emotion and the candid images, whereas David Williams specializes in the formal arrangements and additional angles and images when not required to enhance lighting or posing scenarios for Storey.
Both Storey and David carry the industry designation of Master of Photography. We do not use trainee photographers.
Do you think we need an extra photographer?
We are often working closely together, but rarely with our cameras pointing in the same direction. Part of our approach is looking for action and reaction, formal and casual, this end of the reception versus that end. We feel that it is rare that a situation presents itself that we cannot deal with, however we are happy to discuss it with you and show you the full extent of our wedding coverage.
However, we can arrange another professional photographer as a "third photographer" for your wedding, if you require three simultaneous locations to be covered at some point during the day. Expect an increase in fee of $1,200.00 for this service.
What do you think about video coverage?
We have the great pleasure of working with some great people in the film industry, whom we are happy to refer to you, who are lovely people with the same desire to 'fit in' and same desire to be discreet. They also understand the need for us both to 'get the shot', and to use the minimum of distracting equipment or lighting.
These video people we love working with and recommend highly. Please ask us for our list of recommended suppliers. We would always suggest than you be conscious of the 'media team' you are assembling. Too many people can be counter-productive.
What about extra time?
Sometimes even the best laid plans can drift a little. We will always check with you before applying any extra time charges. You may want a portion of your rehearsal dinner photographed. For events like that we charge $300 per hour and include the full-resolution files in your collection.
On the subject of time, any advice you can share for reducing stress on a wedding day?
So glad you asked! as we are fond of saying 'a wedding is a slow moving train'. Allow plenty of time for everything. For example: getting six people ready takes longer than you would think, and as a bride - put yourself first (or second) for hair and make-up. After all, it doesn't matter so much if the last bridesmaid is not ready until five minutes before you leave for the ceremony - it does matter if that's you. Remember this…every minute that you run late is one less photograph taken.
Do we get all the digital 'negatives'? What about the rejects?
You most certainly do get the full resolution, non-watermarked, JPEG files of your wedding coverage. We spend a considerable amount of time using our professional judgement to carefully select and enhance the best images from a sequence, and making sure your collection is not filled with duplicates making your choices more difficult.
Your collection does not include things like blinks, people stepping in front of an image, unflattering expressions, minor variants of a theme, or the occasional technical problem.
Rejects are never shown to you and are never available. Likewise, files in RAW format or camera original are never available.
If I have the digital negatives, why would I get you to make prints for me?
Great question! The high-quality files we supply will (in many cases) allow you to make good quality, inexpensive prints for distributing among your guests and family. Often, however, you will want only the very best professionally finished print made on archival materials, or on beautiful papers - that's where we come in. The difference is worth it!
What does the 'Artists Choice' album that you offer mean exactly?
After you have received your bound proof book, full-resolution digital files, and DVD slideshow, we get into the studious task of bringing together the best of your images into an initial design for your wedding album.
By attending to this initial stage, we like to say we save you your first marital arguments! - and so much time and effort. After all, we have made every image on your wedding day with a purpose in mind, and we know what goes together well.
The really good news is you both get to go through our initial design and indicate images you would like to swap out, images that you prefer, or let us know ones you would like to see included that may have passed our eye. We include three reviews to an album design before a further alteration fee is assessed.
We believe in creating a book that shows the best use of your images, and shows the best telling of the day. Our view is that you should be able to show someone your wedding album who wasn't at the wedding, and they should have no questions but also feel they were there.
To that end, we usually build our books to their maximum capacity - often 40 spreads of elegantly arranged, beautiful photographs. Once your design is finalized and signed off on, it takes about 8-12 weeks to receive the finished book.
We always choose high quality books and clean design techniques that will stand the test of time.
All bride and groom wedding albums come in a beautiful matched clamshell case. Typically, our books measure 9x12 inch closed, or 18x12 inches open. Most choices in cover materials are included.
How long does it take to get my photographs and wedding album after the wedding?
Typically you will receive your digital files 4 weeks after your wedding day. Shortly thereafter you will see the draft album design. Assuming you are timely in returning your design changes to us, we will have your wedding album in your hands about 6 months after your wedding day.
We know some great locations can require permits - what's the process?
Many superb locations do require permits for photography. The Distillery District and University of Toronto being two popular venues that come to mind. And yes, they do enforce it. Can you imagine how embarrassing it would be to be kicked out of a place you had set your heart on?
So permits are important, and yes, you the bride and groom need to obtain the permit, and it is really advisable to do it well in advance.
So, I love Instagram, Pinterest and bridal magazines - can I show you my faves?
It can be helpful for us to see what images you like. It is very important that you see those images in our samples. If you don't, we might not be the photographers for you. Sample images can be great to explain a mood, or a feeling or a composition of an image.
You can imagine that there has to be a correlation between your wedding and the one in your sample picture. For example: the light, airy, backlit image in a wheat field is not going to translate to a downtown Toronto night time winter wedding. However, it could be helpful if you are having a cottage wedding.
Fundamentally, the most difficult thing to do is to hire someone and ask them to perform in a totally different way. It's a bit like asking your funky party band to perform 17th chamber music. It probably sounds really obvious but make sure you are happy with the photography style and the variety we show you.
What about a 'shot list' - is that useful?
Basically…A shot list is not useful. A group portrait list is very useful, in fact required. Many bridal magazines and on-line resources provide standard shot lists, and they can be a great idea, but mostly we will know to take those anyway. A good look at our portfolio and sample weddings should give you great insight into the level of coverage we do, but there are always exceptions.
You require a Photographer's Agenda. What is this?
At least a week before the wedding, please send us the following:
List of Names: Please list everyone in your immediate families and bridal party (so we can familiarize ourselves with the names beforehand).
Formal Group Portrait List: A list of family groups that you would like taken. Estimate 15 minutes per group, due to the slow moving nature of people on a wedding day.
Informal Group Portrait List: Any special relatives, friends or guests outside the immediate family that you would like informally photographed at some point in the day. Any group of school pals or work pals should be listed and a bridesmaid or groomsman who knows them would help us make this photograph for you.
We strive to make beautiful and flattering photographs of family and guests at the reception in a candid way, laughing, talking, joking, dancing and for that reason we do not photograph them eating, nor do we stop tables to photograph them.
If you have a special group of people you would like photographed who all happen to be sitting at a table, please let them know we will be approaching them, and we will do our best to make a lovely group for you away from their table.
How do you feel about other people taking pictures?
Your guests and family are very welcome providing they don't stop us from doing the job you commissioned us for. We prefer them to wait until we are finished, as time can be of the essence, and we find eyes moving in all directions for different cameras can ruin our photograph.
During the formal sessions with yourselves and your families we would prefer it that we were the only people making images for precisely that reason.
We invite you to consider making your wedding ceremony 'unplugged'. That is please request your guests to simply enjoy the ceremony and leave the photography to us. It is a move most welcomed by wedding officiants seeking to maintain the importance and sanctity of the most important part of the day.
It also means we don't have to try and photograph you coming down the aisle through a forest of iphones, ipads and assorted smaller cameras. This 'unplugged' request is often in the form of a sign at the back of the church, or a note in the ceremony program, or a gentle announcement by your wedding officiant.
You are commissioning us to be the only photographers of still images for your wedding. As such it is not acceptable for any other supplier or vendor to produce still images of your wedding.
Do we need to feed you at the wedding?
Yes please! it's a long, high energy expending day for us on constant alert. Many venues supply 'vendor meals' as an alternative to the same meal provided to guests. Being 'fed and watered' will ensure we are at our best for you and not fading in a corner.
If possible, it is most helpful for us to be fed at the same time as yourselves. When you're eating - we are not photographing you - but we want to be right there when you've finished and attending to the official requirements of the evening.
Do you make black & white images?
Most of our images are initially supplied as colour. The beauty of using professional digital SLR cameras is that any photograph can be printed in black and white or colour. We would love to know your preferences for black and white versus colour as we approach your album design.
Do I need to pay extra if the wedding is out of town?
For example, travel to most of 'Cottage country' is an additional $200. Accommodation of the night of the wedding will be arranged by us and added to your final invoice. Please ask us about locations further away for an accurate quote.
How long do I have to order my prints, etc. after the wedding day?
We ask that your orders, and those of your family and friends, be placed within twelve months after your wedding day. The on-line gallery will no longer be available on-line after that date. Storey Wilkins Photography will not be required to maintain the photographs after that date.
Shipping and handling?
Shipping and handling are not included in prices quoted above and, if required, will be added to your invoice. Please note that all albums sent internationally are sent by courier and are fully insured.
Can you recommend a great event planner?
We are often asked for referrals to the best wedding day professionals who can deliver services and products that will make their wedding day extraordinary. Our first recommendation is to enlist the help of a great wedding planner. The art of having every aspect of your wedding day look beautiful and run smoothly is best done by one of many incredible planners in this city. Please ask us for our preferred list.
Should we purchase a wedding album?
The short answer is DEFINITELY YES! Your wedding album will be a culmination of the wonderful memories of the day presented in a beautiful book that tells the story for a lifetime. Choosing from our main album line of gorgeous, professionally bound books constructed from only the best quality materials and workmanship, we know you will love it.
We want an album but how much time does it take to order one?
Because the wedding album process can be a little challenging for busy couples like you, we provide full album services from image selection to design to cover selection, and more. Never worry about design; we include full design services for each album purchased. We will create the first draft design called an Artist's Choice Album and then work with you to perfect it based on your preferences until the final piece of perfection is ready to print.
"Storey, We absolutely love the album. The picture quality is amazing and the arrangements are beautiful. From the box and cover and throughout the album the quality and attention to detail is everywhere." - Carly & Marc
Here are some examples of Storey's favourite cover materials: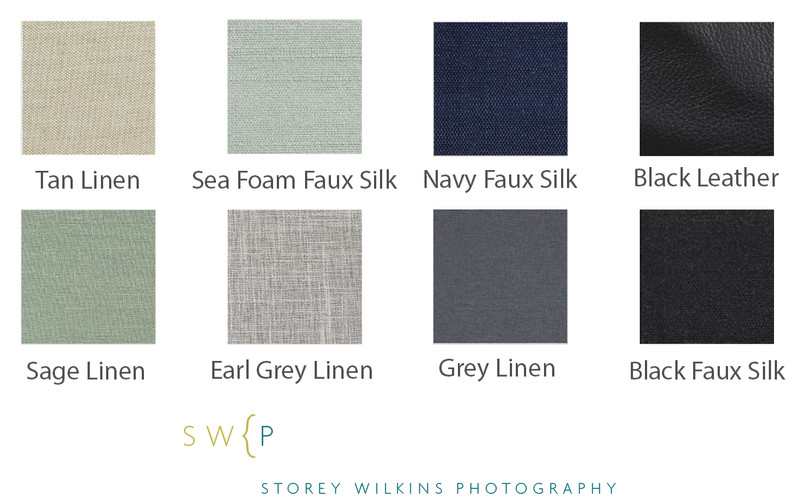 We want really nice family portraits. Can you pose us nicely but quickly?
We love capturing the most natural, candid portraiture possible. This style showcases your day as it was, helping to bring your personalities forward and documenting your day for a lifetime of memories.
While we shoot the majority of our images this way, it's also very important to capture traditional formal portraits as well; and since our most important goal is getting you to your party on schedule, we suggest 5 minutes for each desired grouping to ensure maximum results with minimal time.
We always start with the largest group and break it down after that to allow for mingling.
Make sure all flowers and boutonnieres are delivered on time and affixed to family members and to the wedding party in advance.
If you have ideas for any 'can't miss' portrait groupings you would like to see photographed during this time, make sure to mention them to us before the wedding. We're happy to work with you to capture all of your special moments!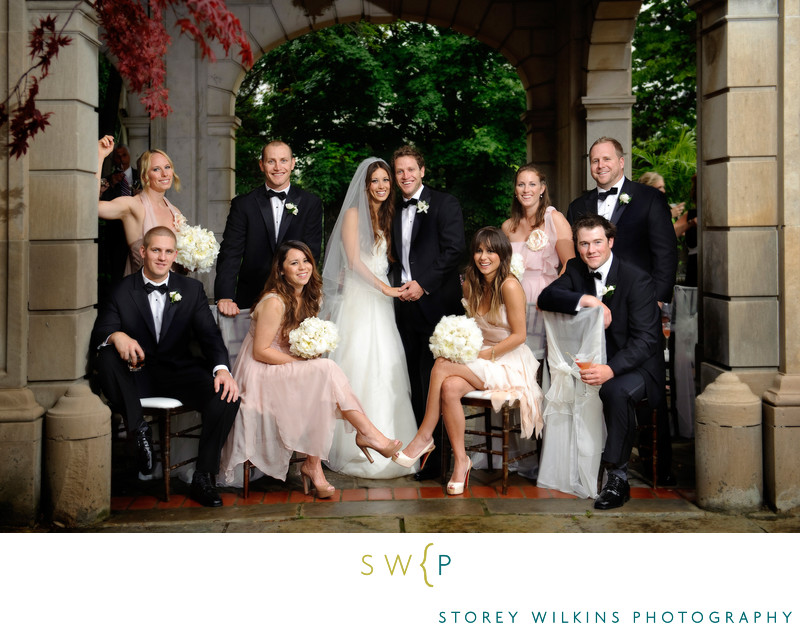 Do you offer engagement portraits?
Yes of course! A portrait session is a wonderful way to celebrate your recent engagement. Pick a spot that is special for the two of you and I will meet you there. We will have a fun relaxed walk around and create some lovely images of the two of you in the process.
Shooting an engagement is important for several reasons. First, this time allows you to get comfortable in front of the camera with me, your photographer, figuring out how you work best together before the wedding. Next, you can showcase your personalities in a more casual setting, while creating some fun captures for wall portraits and Thank You cards (shot early enough, we can also provide the images for your Save The Date cards and invitations). Images also add another dimension to your wedding album, chronicling the story from engagement to your wedding day.
Best of all, you can remember this special time forever away from the throngs of loved ones and friends. This is your time together!
Can you provide me with some testimonials/raves/love letters?
"The photos and the album are absolutely amazing! Everyone we've shown our photos to can't get over the care and thoughtfulness you put into capturing our wedding, and we couldn't agree more. For a day that is famous for going by 'too fast,' you captured the feeling and the memories beautifully and we're incredibly grateful."
Sue & Geoff
"Dear Storey, I wanted to thank you so much for everything you did to capture our wedding day so perfectly. The photographs you produced are truly better than anything Patrick and I would have hoped for and will allow us and our families to remember the day with perfect clarity and vivid emotion for years to come. Your entire service from start to finish is truly impeccable. We are so lucky to have found you and are so grateful for the photos, the albums, the CDs - every part of the experience was an absolute pleasure. While the product is perfect the part about working with you that is truly the best is your personality. You were such a treat to be around the day of the wedding, it just made the whole experience of the wedding day that much more special. Thank you again so much for everything you've done - it has truly been an honour working with someone who is such a consummate professional. With warmest regards,"
Allie
"Storey . . . Wow. I'm not sure Dan and I have the words to express how wonderful it has been to work with you and how incredibly professional, thoughtful and absolutely adorable you are. Not only are we so happy and excited to have the images you and Leigh captured; we are also very blessed to have had you there to help us be present in heart and mind on our wedding day. From our first meeting, to our practice shoot on the beach, our wedding day and the little packages received in the mail . . . all is evidence for the passion you clearly have for capturing the essence and wide range of emotion in one's story. We have already been spreading the word about your work and hope someone we know takes advantage of your gift and love for photography. With great appreciation and warm regard,
Julie & Dan
"The greatest gifts I have ever received in life are my two daughters. And to date, the greatest and most treasured documentation of their lives are the photographs that Storey has taken of our girls. Despite Storey's extraordinary training and learned skills, she is a natural, with an eye for capturing the most candid and natural moments in time. She can chronicle the story of a child's world in a mere 1-hour session, capturing not only the image but, more importantly, the essence of a person/child in time. Her images are fluid and alive, never structured and stiff. Looking at Storey's work elicits not only memories but, emotions of that precious and most fleeting moment in time you want to cherish forever."
Kate
"Dear Storey, What can we say except for you to accept our sincere gratitude for your work on our special day! The DVD and proofs are garnering huge praise and we await our album with huge excitement. To quote one of our more hardened guests - a journalist of some age and stature - 'the photographers were ninjas in black suits, invisible but everywhere and catching everything!' Highest praise indeed. We could hardly add more except to add our heartfelt thanks."
Scott and Nigel
"Storey, We absolutely love the album. The picture quality is amazing and the arrangements are beautiful. From the box and cover and throughout the album the quality and attention to detail is everywhere. Many thanks for all your work and for being so wonderful on the day, which is now so perfectly captured. All the best,
Carlie and Marc